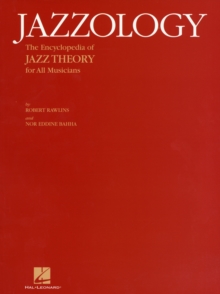 Jazzology : The Encyclopedia of Jazz Theory
0634086782 / 9780634086786
Stock expected by 29/04/2021
Jazz InstructionA one-of-a-kind book encompassing a wide scope of jazz topics, for beginners and pros of any instrument.
A three-pronged approach was envisioned with the creation of this comprehensive resource: as an encyclopedia for ready reference, as a thorough methodology for the student, and as a workbook for the classroom, complete with ample exercises and conceptual discussion.
Includes the basics of intervals, jazz harmony, scales and modes, ii-V-I cadences.
For harmony, it covers: harmonic analysis, piano voicings and voice leading; modulations and modal interchange, and reharmonization.
For performance, it takes players through: jazz piano comping, jazz tune forms, arranging techniques, improvisation, traditional jazz fundamentals, practice techniques, and much more! "
BIC: