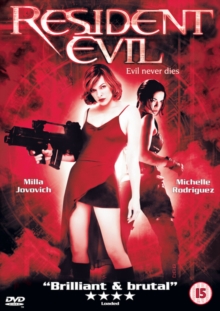 (15) Suitable for 15 years and over.
A big screen version of the popular computer game. A virus has been sealed in an underground research centre, the Hive, and Alice (Milla Jovovich) and Rain (Michelle Rodriguez) are sent in with a team of commandos to destroy it.
However, they have not counted on the fact that all the employees who were trapped in the Hive with the virus, and thought to be dead, have been turned into the living dead and one scratch from them can cause the recipient to become like them...
Commentary: Cast and filmmakers.
Other Documentary: 'Scoring Resident Evil'. 'Costumes'. 'Set Design' 'Zombie Camera Tests'.
Bonus Tracks: Slipknot music video.