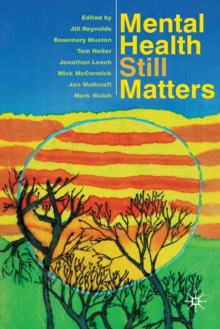 Mental health still matters
0230577296 / 9780230577299
Published in association with the Open University.
This textbook presents a fresh look at mental health, following on from the hugely popular Mental Health Matters.
It provides new and exciting user perspectives across the full range of mental health issues.
This is a rich and diverse resource for all students and practitioners of mental health taht reflects the wide diversity of views about how best to understand and explain mental health and distress. As a sister volume to the best-selling Mental Health Matters, it combines classic writings about mental health theories, perspectives and practices from psychiatry, sociology, psychology and service users, alongside newly commissioned readings.
The book is divided into four parts: * Part I discusses and critiques mental health theory in an exploration of contemporary debates. * Part II considers social inclusion as a goal for mental health services and reviews aspects of the services in which inequality continues to dominate. * Part III offers accounts of mental distress by service users, many of whom have used their experience to become teachers, researchers and innovators in mental health work. * Part IV considers some of the challenges faced by practitioners alongside professional responses to the major changes we are seeing in the landscape of mental health. This is an important and innovative collection of readings which has strong cross-disciplinary relevance and appeal.
It is essential reading for everyone studying, training or practising in the field of mental health, whether your background is in social studies, health science, medicine or psychology.
BIC: