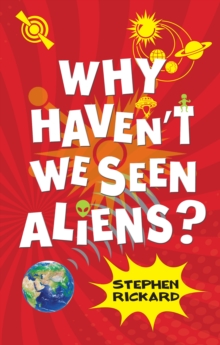 Why haven't we seen aliens?
1781271003 / 9781781271001
Primary & Secondary Education (US: Elementary & High School) Learn More
Children / Juvenile
Teenage / Young Adult
If there really is alien life elsewhere in the Universe, then it's reasonable to ask why we haven't seen it.
Surely planet Earth must have been visited by aliens, if they exist.
Does that mean that alien life doesn't exist? This book uses our knowledge of the universe, some simple maths and a little bit of intelligent speculation to take a sober look at the chances of our actually meeting alien life.
After all, we will only meet up if both of us are in the right place at the right time.
The Universe is a big place - and it has been around for a long time.
Perhaps we were "out" when they visited us?This is a wonderful non-fiction book which offers deep insights to inquiring minds in a way that is simple yet not patronising.
Light-hearted, stimulating and entertaining, this book will answer at least some of the questions that a curious child wants to know the answers to.
BIC:
5AM Interest age: from c 11 years, YF Children's / Teenage fiction & true stories, YNT Science & technology: general interest (Children's / Teenage), YNXF UFOs & extraterrestrial beings (Children's / Teenage), YQS Educational: Sciences, general science