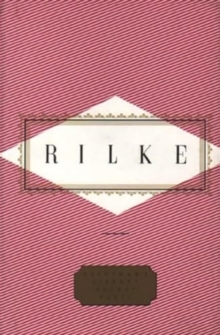 1857157303 / 9781857157307
Stock expected by 20/05/2021
Though as yet little known in English-speaking countries, Rainer Maria Rilke (1875-1926) is the finest German poet of this century and one of the greatest lyrical writers in the history of Western literature.
A major figure in the modernist movement, with some affinities to Yeats, Rilke had a profound influence on other 20th century poets such as Pasternak and Akhmatova.
He is a master of vivid and breathtakingly original imagery in which difficult ideas are made directly apprehensible to the reader and new worlds of experience are opened up.
This selection includes poems from all stages of his career, beginning with the delicate works of his early years, through the extraordinary poems he wrote in French (which he used like a first language) and concluding with his mature masterpieces: the SONNETS TO ORPHEUS and the DUINO ELEGIES.
Also included are Rilke's prose LETTERS TO A YOUNG POET in which he counsels a younger colleague and expounds his own literary ideal.
This is by far the most comprehensive selection from this poet in English and forms an ideal introduction to this work.
BIC: