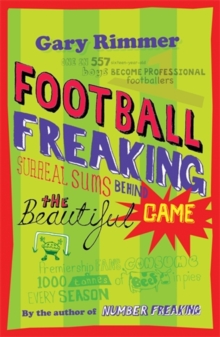 Football freaking : surreal sums behind the beautiful game
1840467533 / 9781840467536
Stock expected by 19/12/2019
Did you know that Estonia once managed to beat Scotland without even turning up?
That the Cote d'Ivoire has the most expensive team? And why Dutch defender Winston Bograde is paid twice what Real Madrid pays Beckham, Ronaldo and Zidane combined?Gary Rimmer's unique Number Freaking technique unearths the real truth behind the beautiful game.
Discover: How many German police officers await each England fan in 2006 Which club has opened a chain of themed restaurants in China How many free condoms are given out during a game Who is worth more per gramme: Michael Ballack or cocaine? How many cows a football fan consumes each year- and much, much more.
From which German football stadium has the most comfy seats to the cup that was hidden in an Italian shoebox, Gary Rimmer presents the essential guide to everything you never needed to know about football.
BIC: