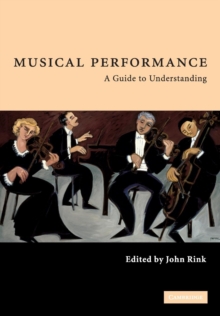 Musical performance : a guide to understanding
0521788625 / 9780521788625
Usually dispatched within 4 weeks
25 cm xiii, 245 p. : ill.
general Learn More
research & professional
academic/professional/technical
This accessible guide for students, teachers and performers at all levels unravels the complexities of musical performance and focuses on key aspects of learning, playing and responding to music.
A survey of performance through the ages leads to a presentation of basic historical, analytical and psychological concepts.
Four chapters follow on teaching, development, practice and memorisation.
The next section considers the 'translation' from score to sound, physical projection, ensemble playing and performance anxiety.
The final section addresses the act of listening, the legacy of recordings, music criticism and 'performers on performance'.
BIC:
AVA Theory of music & musicology, AVS Techniques of music / music tutorials