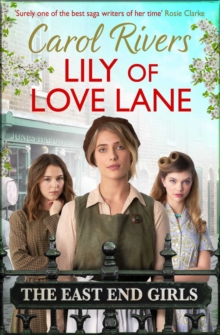 Lily of Love Lane
1471192253 / 9781471192258
Reprint. Originally published: 2008.
A heart-warming and nostalgic family saga set at the heart of wartime London, from the bestselling author of A Wartime Christmas.
Perfect for fans of Sheila Newberry and Rosie Goodwin 'Surely one of the best saga writers of her time' - Rosie Clarke AS WAR APPROACHES, WILL LOVE FIND A WAY?1930, Isle of Dogs. 20-year-old Lily Bright works long hours on a market stall, selling furniture and bric-a-brac to make ends meet.
When a handsome stranger turns up at the stall in search of a bargain, it's love at first sight. Swept off her feet, Lily falls head over heels for the debonair Charles Grey - only to discover, too late, that he's a bigamist and trader in stolen goods.
Trapped and pregnant, Lily turns to her childhood friend Ben James for comfort.
A former lorry driver, Ben is now a successful businessman, and Lily quickly realises that it's Ben she really loved all along. But with World War II looming, will she find a way to overcome her mistakes and win her true love's heart before it's too late?Praise for CAROL RIVERS:'A gripping page turner' - LEAH FLEMING'Brings the East End to life - family loyalties, warring characters and broken dreams.
Superb' - ELIZABETH GILL
BIC: