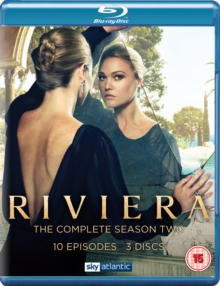 Riviera: The Complete Season Two
Blu-ray (Blu-ray / Box Set)
(15) Suitable for 15 years and over.
All ten episodes from the second season of the British crime drama starring Julia Stiles and Anthony LaPaglia.
American art curator Georgina Clios (Stiles) lived in the French Riviera with her billionaire husband Constantine (LaPaglia) and his three grown-up children.
Now, after her husband's sudden death under extremely mysterious circumstances, Georgina tries to uncover the truth behind the Clios family fortune.
In this season, Georgina befriends the wife of a wealthy businessman after being rescued by the couple out at sea and Georgina has some explaining to do when she returns home to America for a funeral.