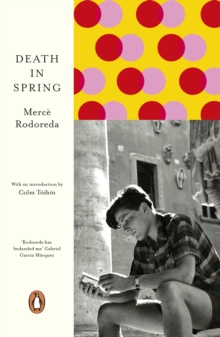 Death in spring ([New edition])
0241352541 / 9780241352540
Previous edition of this translation: Rochester: Open Letter, 2009.
'Soaringly beautiful, urgent and disturbing... A masterpiece.' Colm Toibin, from the introduction'Dark and beautiful and brilliant' Sarah Moss, author of Ghost Wall Death in Spring is a dark and dream-like tale of a teenage boy's coming of age in a remote village in the Catalan mountains; a place cut off from the outside world, where cruel customs are blindly followed, and attempts at rebellion swiftly crushed.
When his father dies, he must navigate this oppressive society alone, and learn how to live in a place of crippling conformity.
Often seen as an allegory for life under a dictatorship, Death in Spring is a bewitching and unsettling novel about power, exile, and the hope that comes from even the smallest gestures of independence. 'Rodoreda has bedazzled me' Gabriel Garcia Marquez'Rodoreda's artistry is of the highest order' Diana Athill 'Read it for its beauty, for the way it will surprise and subvert your desires, and as a testament to the human spirit in the face of brutality and willful inhumanity.' Jesmyn Ward, author of Sing, Unburied, Sing 'Utterly extraordinary' Claire-Louise Bennett, author of Pond
BIC:
FA Modern & contemporary fiction (post c 1945), FYT Fiction in translation, HBWP Spanish Civil War