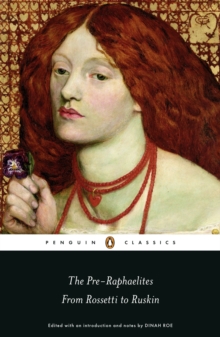 The Pre-Raphaelites : from Rossetti to Ruskin
0141192402 / 9780141192406
The Pre-Raphaelite Movement began in 1848, and experienced its heyday in the 1860s and 1870s.
Influenced by the then little-known Keats and Blake, as well as Wordsworth, Shelley and Coleridge, Pre-Raphaelite poetry 'etherialized sensation' (in the words of Antony Harrison), and popularized the notion ofl'art pour l'art - art for art's sake.
Where Victorian realist novels explored the grit and grime of the Industrial Revolution, Pre-Raphaelite poems concentrated on more abstract themes of romantic love, artistic inspiration and sexuality.
Later they attracted Aesthetes and Decadents like Oscar Wilde, Aubrey Beardsley and Ernest Dowson, not to mention Gerard Manley Hopkins and W.B.
Yeats.
BIC: