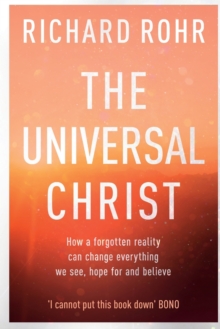 The universal Christ : how a forgotten reality can change everything we see, hope for and believe
0281078629 / 9780281078622
Across the 30,000 or so varieties of Christianity, believers universally love Jesus.
They have no trouble accepting his humanity and his divinity.
Many express intimations of his close presence in their lives; a fear of his judgment and wrath as well as a love of his compassion; a justification for their worldviews and politics (of all persuasions), and firm convictions about his atonement for their sins and thus his centrality in their personal salvation.
But who is Christ? Is Christ simply Jesus's last name, denoting his role as saviour of humanity, as messiah?
What is Christ? How is his function or role different from Jesus's? Are we missing something fundamental because of our overwhelming emphasis on Jesus to the exclusion of the Christ, or our misunderstanding of what it means that Jesus was `the Christ'?
Could it be that such limited views are contributing to the slow and painful erosion of Christianity in western culture, to its insularity and insistence on purity and exclusion?
These are questions Fr Richard Rohr has been pondering for many years.
In his ecumenical and scripturally grounded books on contemplation, mysticism and many more topics, he has emphasized the importance of a large framework for understanding the nature of 'what is' and what lasts, of unity and the ultimate reality of God's presence in all of creation-Christian and non-Christian, human and non-human.
Could it be that Jesus, who is the Christ, is offering us a model and example on how to live inside `this Big Frame?'
BIC: