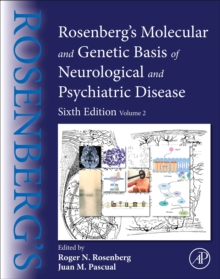 Rosenberg's Molecular and Genetic Basis of Neurological and Psychiatric Disease : Volume 2 (6 ed)
0128138661 / 9780128138663
Rosenberg's Molecular and Genetic Basis of Neurologic and Psychiatric Disease, Sixth Edition: Volume Two provides a comprehensive introduction and reference to the foundations and practical aspects relevant to the majority of neurologic and psychiatric disease.
This updated volume focuses on degenerative disorders, movement disorders, neuro-oncology, neurocutaneous disorders, epilepsy, white matter diseases, neuropathies and neuronopathies, muscle and neuromuscular junction disorders, stroke, psychiatric disease, and a neurologic gene map.
A favorite of over three generations of students, clinicians and scholars, this new edition retains and expands on the informative, concise and critical tone of the first edition. This is an essential reference for general medical practitioners, neurologists, psychiatrists, geneticists, related professionals, and for the neuroscience and neurology research community at large.
The content covers all aspects essential to the practice of neurogenetics to inform clinical diagnosis, treatment and genetic counseling.
BIC:
MFN Medical genetics, MJN Neurology & clinical neurophysiology, PSAN Neurosciences