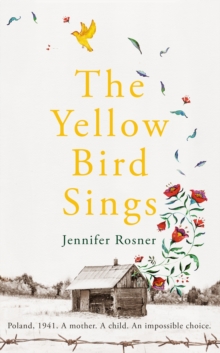 The yellow bird sings
1529032466 / 9781529032468
Poland, 1941. A mother. A child. An impossible choice. Poland, 1941. After the Jews in their town are rounded up, Roza and her five-year-old daughter, Shira, spend day and night hidden in a farmer's barn.
Forbidden from making a sound, only the yellow bird from her mother's stories can sing the melodies Shira composes in her head. Roza does all she can to take care of Shira and shield her from the horrors of the outside world.
They play silent games and invent their own sign language.
But then the day comes when their haven is no longer safe, and Roza must face an impossible choice: whether the best thing she can do for her daughter is keep her close by her side, or give her the chance to survive by letting her go . . . The Yellow Bird Sings by Jennifer Rosner is a powerfully gripping and deeply moving novel about the unbreakable bond between parent and child and the triumph of humanity and hope in even the darkest circumstances. Woman & Home Book Club Pick'If you only read one book this year, make it The Yellow Bird Sings' - AJ Pearce, author of Dear Mrs Bird
BIC:
1DVP Poland, 3JJH c 1939 to c 1945 (including WW2), FJMS Second World War fiction, FV Historical fiction