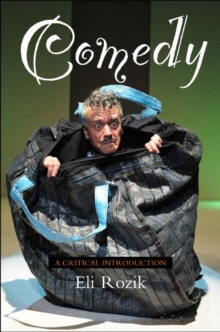 Comedy : a critical introduction
1845194780 / 9781845194789
Stock expected by 22/04/2020
Herewith an original approach to the study of comedy.
While assimilating theoretical insights from Aristotle to the present day, it contests, inter alia, the theory of comedy's ritual origin; challenges the age-old and continuing attempts to determine the structure of action that characterises comedy; and suggests instead that structures of action are shared by all genres, and that it is the specific mood that accounts for their differences.
Mood is a prism through which a playwright wishes the spectator to perceive a fictional world.
Comedy is characterised by its light-hearted mood, which generates a specific kind of laughter.
If mood determines the genre of a fictional world, in contrast to current theory, comedy, satiric drama and grotesque drama are different genres promoting different moods and aiming at different effects.
Each genre should thus be read and experienced according to its inherent rules and not in terms of a theory that lumps these genres together. The book discusses the pivotal role of commedia dell'arte in both reflecting comedy's classical tradition and influencing subsequent developments, especially in comedy's style of acting; it explores the relations between comedy and carnival and between comedy and joke-telling; probes the view that comedy is characterised by a unique vision; and examines comedy in different media -- such as cinema, comics, puppet theatre, radio drama and TV drama.
Eli Rozik questions the traditional semiotic view that all meaning is in the text, and suggests that, in generating comedic meaning, the spectator's contribution/reaction is no less vital than that of the text itself. Major contributions to a general theory of comedy, and to a sound methodology for the analysis of comedies, are presented, and ample reference to comedies and/or pertinent analyses of such comedies, written over the course of 2,500 years of theatre recorded history, is provided to enable readers to grasp ideas in their original terminology and logic.
Each presentation is accompanied by critical comments which attempt both to introduce the problems involved and suggest possible solutions.
BIC:
DSB Literary studies: general, DSG Literary studies: plays & playwrights