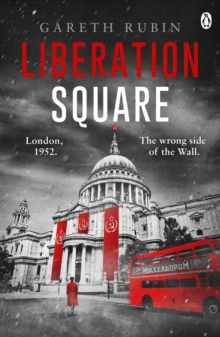 Liberation Square
1405930616 / 9781405930611
20 cm 382 pages : maps (black and white)
Reprint. Originally published: UK: Michael Joseph, 2018.
'This richly imagined thriller is set in an alternate past . . . Tightly plotted, tense and set in a chillingly plausible world' Sunday Mirror 'A gripping story, with heart' Best thrillers of 2019, Daily Telegraph It's 1952 and Soviet troops control British streets. After the disastrous failure of D-Day, Britain is rescued by Russian and American soldiers.
The two superpowers divide the nation between them, a wall running through London like a scar. On the Soviet side of the wall, Jane Cawson suspects her husband, Nick, of secretly seeing his ex-wife, Lorelei, glamorous star of Soviet propaganda films.
But before Jane can confront them, Lorelei is murdered. To her horror, Nick is arrested for the killing. Desperate to clear his name, Jane must risk the attention of the brutal secret police in order to discover the truth.
Evading them, her search uncovers a trail of corruption - and the higher it leads, the more dangerous it becomes... ___________ 'A gripping and well-imagined yarn' Sun 'A gripping murder mystery set in an alternative 1950s Britain . . . One not to miss' William Ryan, author of The Constant Soldier 'A superb and intelligent piece of alternate history.
By turns gripping, terrifying and trenchant, it is a remarkably assured debut' Stav Sherez, author of The Intrusions 'A twisting murder mystery combined with a chillingly plausible alternative history of a divided Cold War London.
Brilliant' Mason Cross, bestselling author of The Samaritan 'A brilliantly researched, shockingly plausible thriller' Claire McGowan, author of The Fall 'A tantalising alternative world, and a murder mystery that's sure to appeal to fans of The Man in the High Castle, and Fatherland' David Young, bestselling author of Stasi Child
BIC:
FA Modern & contemporary fiction (post c 1945), FH Thriller / suspense