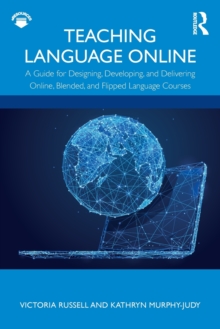 Teaching language online : a guide for designing, developing, and delivering online, blended, and flipped language courses
1138387002 / 9781138387003
192 pages : illustrations (black and white)
Postgraduate, Research & Scholarly Learn More
Undergraduate
Practical and accessible, this book comprehensively covers everything you need to know to design, develop, and deliver successful online, blended, and flipped language courses.
Grounded in the principles of instructional design and communicative language teaching, this book serves as a compendium of best practices, research, and strategies for creating learner-centered online language instruction that builds students' proficiency within meaningful cultural contexts.
This book addresses important topics such as finding and optimizing online resources and materials, learner engagement, teacher and student satisfaction and connectedness, professional development, and online language assessment. Teaching Language Online features:A step-by-step guide aligned with the American Council on the Teaching of Foreign Languages (ACTFL), the Common European Framework of Reference (CEFR) for Languages: Learning, Teaching and Assessment, and the World-Class Instructional Design and Assessment (WIDA) standardsResearch-based best practices and tools to implement effective communicative language teaching (CLT) onlineStrategies and practices that apply equally to world languages and ESL/EFL contextsKey takeaway summaries, discussion questions, and suggestions for further reading in every chapterFree, downloadable eResources with further readings and more materials available at www.routledge.com/ 9781138387003 As the demand for language courses in online or blended formats grows, K-16 instructors urgently need resources to effectively transition their teaching online.
Designed to help world language instructors, professors, and K-12 language educators regardless of their level of experience with online learning, this book walks through the steps to move from the traditional classroom format to effective, successful online teaching environments.
BIC:
CJ Language teaching & learning (other than ELT), JNQ Open learning, home learning, distance education, JNUM Teachers' classroom resources & material