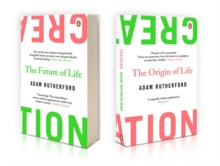 Creation
024195469X / 9780241954690
20 cm 1 volume (various pagings)
Reprint. Originally published: London: Viking, 2013. Contents: The origin of life -- The future of life. Tãete-bãeche format.
Creation by Adam Rutherford tells the entire spellbinding story of life in two gripping narratives. 'Prepare to be astounded. There are moments when this book is so gripping it reads like a thriller' Mail on SundayThe Origin of Life is a four-billion-year detective story that uses the latest science to explain what life is and where it first came from, offering answers to the very grandest of questions before arriving at a thrilling solution. 'A superbly written explanation' Brian CoxThis same science has led to a technological revolution: the ability to create entirely new life forms within the lab, known as synthetic biology.
The Future of Life introduces these remarkable innovations, explains how they work, and presents a powerful argument for their benefit to humankind. 'The reader's sense of awe at the well-nigh inconceivable nature of nature is suitably awakened.
The extraordinary science and Rutherford's argument are worth every reader's scrutiny.
Fascinating.' Sunday Telegraph'One of the most eloquent and genuinely thoughtful books on science over the past decade.
You will not find a better, more balanced or up-to-date take on the origin of life or synthetic biology.
Essential reading for anyone interested in the coming revolution, which could indeed rival the Industrial Revolution or the internet' Observer'The perfect primer on the past and future of DNA' Guardian'Susenseful, erudite and thrilling' Prospect'A witty, engaging and eye-opening explanation of the basic units of life, right back to our common ancestors and on to their incredible synthetic future.
The mark of a really good science book, it shows that the questions we still have are just as exciting as the answers we already know' Dara O Briain'This is a quite delightful two-books-in-one.
Rutherford's lightness of touch in describing the dizzying complexity of life at the cellular level in The Origin of Life only serves to emphasise the sheer scale and ambition of the emerging field of synthetic biology' Jim Al Khalili'A fascinating glimpse into our past and future.
Rutherford argues persuasively against those who seek to hold back scientific progress.
His illuminating book is full of optimism about what we might be able to achieve' Sunday Times'Fresh, original and excellent.
An eye-opening look at how we are modifying and constructing life.
Totally fascinating' PopularScience.co.uk'In this book of two halves, Rutherford tells the epic history of life on earth, and eloquently argues the case for embracing technology which allows us to become biological designers' Alice Roberts'An engaging account of both the mystery of life's origin and its impending resolution as well as a fascinating glimpse of the impending birth of a new, synthetic biology'' Matt Ridley, author of Genome'I warmly recommend Creation.
Rutherford's academic background in genetics gives him a firm grasp of the intricacies of biochemistry - and he translates these superbly into clear English' Financial TimesDr Adam Rutherford is a geneticist, writer and broadcaster.
He presents BBC Radio 4's weekly programme Inside Science and his documentaries include the award-winning series The Cell (BBC4), The Gene Code (BBC4), Horizon: 'Playing God' (BBC2) as well as numerous other programmes for BBC Radio 4.
This is his first book. TGTCGTGAAGCTACTATTTAAAATGCCACAGTGAAAGATTAAACGCCCGAAAACGGGGTGATAAATGGACGGTAAGTTCCCGACTAAACGTGTTAAATG
BIC: