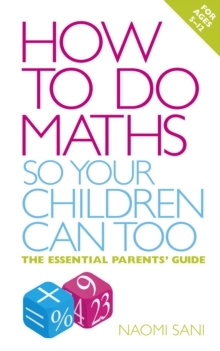 How to do maths so your children can too : the essential parents' guide
0091929385 / 9780091929381
Does the sight of your child's maths homework fill you with dread?
Do you look for any excuse when they ask you to explain equations, fractions or multiplication?
Maths can often leave children - and parents - perplexed. How to do Maths so Your Children Can Too works through maths topics with a simple step-by-step approach, explaining the new ways of teaching maths that confuse so many parents.
This book will show you how to:- Master 'number bonds' and 'number lines'- Divide by 'chunking'- Multiply using 'the grid method'- Work with fractions, percentages and ratios- Understand number and place valueBridging the gap between primary and secondary school - when children often struggle - and packed full of simple, accessible examples, this essential guide will banish your maths phobia and take the pain out of homework time.
BIC:
PB Mathematics, VFX Advice on parenting, VSN Adult numeracy guides & handbooks