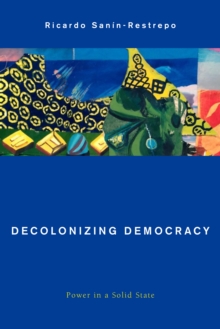 Decolonizing democracy : power in a solid state
1783487054 / 9781783487059
Usually dispatched within 4 weeks
Postgraduate, Research & Scholarly Learn More
Undergraduate
Democracy is the apparent motor of globalization, binding together ideas and institutions such as citizenship, human rights, race, the free market, multiculturalism, development, politics and the economy.
This book looks to overturn this dogma and demonstrate that 'liberal' democracy in fact encrypts and naturalizes the horrors of capitalism and of coloniality, while denying true or radical democracy, principally through constitutions and constitutional theory. Ricardo Sanin-Restrepo turns to the colonized, the marginalized, the creolized, and creates two novel concepts of politics, the "hidden people" and the "decryption of power" to reach a politics through and of radical democracy.
The book shows that democracy is the only space of proper politics and the essential opposition of colonization and power as potestas.
Sanin-Restrepo connects post-structuralism, subaltern studies, critical legal studies, de-colonial studies and Caribbean thought to muster the necessary theoretical tools to propose new grounds to decrypt the semblance of democracy that is liberalism and thus to demonstrate that democracy, far from being the standardized rule of the majority, a simple process or an institution, is the true being in the world and of the world.
BIC:
HPS Social & political philosophy, JPA Political science & theory, JPHV Political structures: democracy