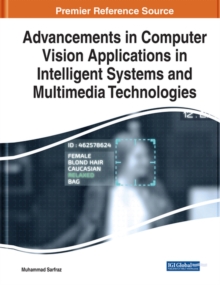 Advancements in computer vision applications in intelligent systems and multimedia technologies
1799844447 / 9781799844440
Two significant areas of study that are continually impacting various dimensions in computer science are computer vision and imaging.
These technologies are rapidly enhancing how information and data is being exchanged and opening numerous avenues of advancement within areas such as multimedia and intelligent systems.
The high level of applicability in computer vision and image processing requires significant research on the specific utilizations of these technologies.
Advancements in Computer Vision Applications in Intelligent Systems and Multimedia Technologies is an essential reference source that discusses innovative developments in computational imaging for solving real-life issues and problems and addresses their execution in various disciplines.
Featuring research on topics such as image modeling, remote sensing, and support vector machines, this book is ideally designed for IT specialists, scientists, researchers, engineers, developers, practitioners, industry professionals, academicians, and students seeking coverage on the latest developments and innovations in computer vision applications within the realm of multimedia systems.
BIC: