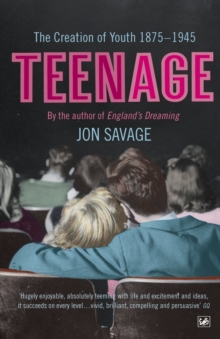 Teenage : the creation of youth culture
1845951468 / 9781845951467
24 cm xviii, 551 p. : ill.
General (US: Trade) Learn More
Professional & Vocational
Tertiary Education (US: College)
Reprint. Originally published: London: Chatto & Windus, 2007.
* The inspiration behind the film TEENAGE, narrated by Ben Whishaw and Jena Malone * This is a history never described before - the century and a half of ferment, folly and angst that created a separate Teen Age in Europe and America.
We roam London, New York, Paris and Berlin with hooligans and Apaches; explore free love with Rupert Brooke and eternal youth with Peter Pan; we meet flappers and zootsuiters and the Bright Young Things, the unemployoed and the Lost Generation. Meanwhile the book rings with music, from Ragtime to Swing, and the stories come fast and furious, comic, poignant, painfully moving. In 1945, 'the teenager' arrived. This is the story of how we got to that moment.
BIC:
3JH c 1800 to c 1900, 3JJ 20th century, HBTB Social & cultural history, JFCA Popular culture, JFSP2 Age groups: adolescents