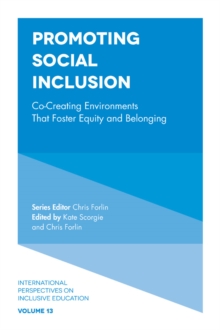 Promoting social inclusion : co-creating environments that foster equity and belonging
1787695247 / 9781787695245
This volume in the International Perspectives on Inclusive Education Series explores innovative perspectives and practices regarding social inclusion of potentially marginalized individuals from multiple perspectives.This book blends theoretical and evidence-based research about social inclusion and belonging, while simultaneously giving voice to families and individuals who have sought to obtain an inclusive education when experiencing a disability. Section 1, Social Inclusion: Affirming value, rights and choice, explores social inclusion from various frameworks including psychology, philosophy, human rights, social justice, hope and equity.
The second section, Social Inclusion and Schools: Programs, perspectives, and practices, reviews a number of evidence-based curricula and interventions to promote social inclusion within educational contexts.
Section 3, Securing presence: Dignity, agency and voice, highlights the importance of attending to and learning directly from children with disabilities.
Finally, Section 4, Transition to higher education and employment, describes the continuing importance of social inclusion in transition to young adulthood and the workplace.
Each chapter offers strategies, guidelines and examples of how professionals, family members and individuals can collaborate to make affirming and co-creating communities that foster equity and belonging for all.
BIC:
JNFN Inclusive education / mainstreaming, JNSC Teaching of physically disabled students, JNSG Teaching of students with specific learning difficulties / needs