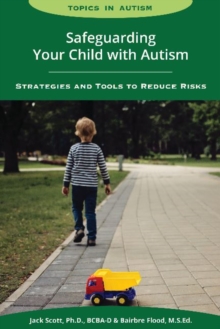 Safeguarding Your Child with Autism: Strategies and Tools to Reduce Risks
1606130056 / 9781606130056
152 x 229 mm, 0 grams 322 pages
"There are many hazards faced by those on the autism spectrum.
Upwards of 48 percent wander from safety, drowning is 160 times more likely, and physical restraint is at an all-time high.
With the very welcome publication of Safeguarding Your Child with Autism, Dr. Jack Scott and his collaborative team of experts have managed to not only uncover some of the most significant dangers to those on the spectrum but provide real-life solutions with clearly detailed pathways of protection.
If your family is looking for a safety action plan, this book is for you!" -Stacey Hoaglund, author, advocate and President of the Autism Society of Florida "This is an important book for parents and teachers who are committed to ensuring the safety of children with autism.
It presents a comprehensive set of guidelines for understanding and addressing the wide range of safety threats that can lead to unintentional injuries.
This book is broad in scope, research-based, relevant, and accessible; all parents and teachers of children with autism should read it." -Raymond G.
Miltenberger, Ph.D., BCBA-D Director, Applied Behavior Analysis Program, Department of Child and Family Studies, University of South Florida
BIC: