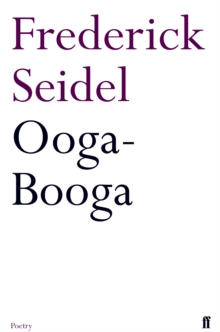 Ooga-booga
0571244084 / 9780571244089
Originally published: New York: Farrar, Straus and Giroux, 2006.
'Seidel grips the twentieth century between his teeth like a blade as he speaks.
He is one of the more formidable poets of the last third of the century.' Calvin Bedient, Poetry'He is scary, but funny, but scary.
You would have go back to confessional masters like Lowell and Berryman to find poetry as daringly self-revealing, as risky and compelling, as the best of Frederick Seidel's.' Adam Kirsch, The New York Sun'The moral thrills of his poetry can be as daunting as the moral spills, the cruel intelligence of glamour as alluring as the mystical stillness that is somewhere also at the heart of his poetry.' Adam Phillips, Raritan'The poems in Ooga-Booga are the richest yet and read like no one else's: they're surreal, utterly unpretentious, and suffused with the peculiar American loneliness of Raymond Chandler.
While I can think of a more likable book of poems, I can scarcely imagine a better one.' Alex Halberstadt, New York magazine'Ooga-Booga is as beguiling and magisterial as anything Seidel has written.
I can't decide whether he has more in common with Philip Larkin or John Ashbery, but the fact that Seidel can prompt such a bizarre question is more revealing than any possible answer.' The New York Times Book Review
BIC: