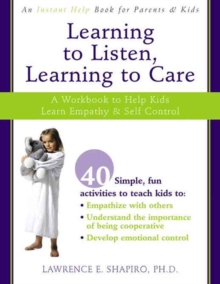 Learning to Listen, Learning to Care : A Workbook to Help Kids Learn Self-control and Empathy
1931704376 / 9781931704373
Usually dispatched within 2 weeks
Empathy is almost always the antidote to behaviour problems and behavioural problems account for 40-50 percent of all counseling referrals.
Unfortunately most parents use the same approach over and over again, even when they don't work.
They can also be bad at setting limits; but what they can do with the help of this workbook is teach new skills.
Here is an experienced and trusted voice that has come with a whole set of fresh tips. And it's far easier to teach a new habit rather than just change an old one.
For example, instead of a time-out corner, a parent of carer could instead create a relaxation corner.
This book is based on the author's positive discipline techniques, taught to thousands of therapists and parents over a twenty year clinical career.
It is designed to make it easy for parents to teach empathy and caring to even difficult children.
BIC:
* Variable discounts between 0% and 15% are applied to items where BBfS cannot determine exact discounts from suppliers.