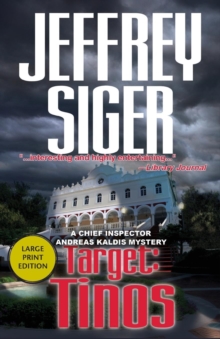 Target: Tinos (Large type / large print ed)
1590589777 / 9781590589779
Usually dispatched within 2 weeks
Praise for Target: Tinos... "Thrilling, thought-provoking, and impossible to put down." -Tim Hallinan, award-winning author of the Poke Rafferty thrillersOn the Aegean island of Tinos lie the remains of two charred bodies chained together amid pieces of an incinerated Greek flag.
An enraged press screams out for justice until the dead are identified as gypsies.
Then the story simply dies. With no one seeming to care, the Greek government orders the investigation closed.
But Andreas Kaldis, head of Greece's special crimes division, presses on to unravel a mystery that yields more dead, a modern secret society, and questions about the sudden influx of non-Greeks and gypsies to Tinos.... Target: Tinos is the fourth novel in Jeffrey Siger's Chief Inspector Andreas Kaldis series, following his internationally best-selling Murder in Mykonos, Assassins of Athens, and Prey on Patmos: An Aegean Prophecy. www.jeffreysiger.com
BIC: