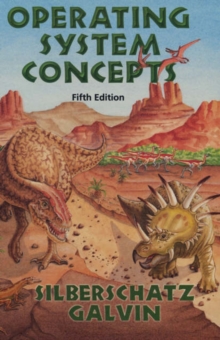 Operating system concepts (5th ed)
0471364142 / 9780471364146
Usually dispatched within 2 weeks
postgraduate Learn More
research & professional
undergraduate
Text and ill. on lining papers.
This textbook provides coverage of the fundamental concepts which make up the foundation of operating systems and also gives practical experience with a fully functioning instructional operating system called NACHOS.
This edition also features new chapters on the history of the operating systems and on computer ethics, as well as a further case study on WindowsNT.
Memory management, including modern computer architectures and file system design and implementation are also covered.
Common operating systems (MS-DOS, OS/2, Sun OS5 and Macintosh) are used throughout to illustrate concepts and provide examples of performance characteristics.
BIC:
£31.95
The title has been replaced. To check if this specific edition is still available please contact Customer Care +44(0)1482 384660 or schools.services@brownsbfs.co.uk, otherwise please click 9780471417439 to take you to the new version.
* Variable discounts between 0% and 10% are applied to items where BBfS cannot determine exact discounts from suppliers.
Other Formats