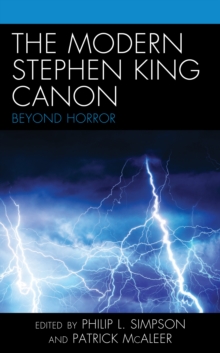 The modern Stephen King canon : beyond horror
1498572782 / 9781498572781
The Modern Stephen King Canon: Beyond Horror is a collection of essays focused on the more recent writings of Stephen King, including Revival, 11/22/63, and a selection of short stories by the "Master of the Macabre." The authors write about King works that have received little critical attention and aim to open up doorways of analysis and insight that will help readers gain a stronger appreciation for the depth and detail within King's fiction.
Indeed, while King is often relegated to the role of a genre writer (horror), the essays in this collection consider the merits of King's writing beyond the basics of horror for which he is primarily known.
Recommended for scholars of literature, horror, and popular culture.
BIC:
1KBB USA, 3JJ 20th century, DSB Literary studies: general, DSBH Literary studies: from c 1900 -