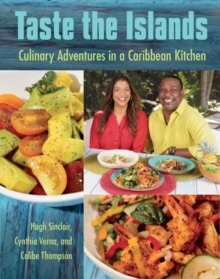 Taste the Islands : Culinary Adventures in a Caribbean Kitchen
0813066166 / 9780813066165
184 x 235 mm 240 pages, 100 colour photos
Enjoy a fun and delicious journey through the Caribbean in this vibrant collection of gourmet and home-style recipes.
Hugh Sinclair and Cynthia Verna, known as "Chef Irie" and "Chef Thia" on their television show Taste the Islands, introduce ingredients and flavors that open windows into the region's many cultures. Sinclair and Verna share their own recipes as well as traditional island favorites.
Starting with "stop gap" snacks like fritters made from malanga root and continuing through desserts and cocktails, they include refreshing salads like pineapple pepper slaw, soups with "a healthy dose of soul" made with bases such as calabaza pumpkin or black beans, and main dishes such as curried goat or mussels chorizo in mango coconut sauce. From the authors' home nations of Jamaica and Haiti to St.
Lucia, Barbados, and Trinidad and Tobago, the communities represented in these dishes have deep histories.
The recipes feature both native and colonial food traditions that have been passed down for generations and showcase African, European, Middle Eastern, and Asian influences.
Sinclair and Verna also incorporate tastes and techniques from their international travels, capturing the eclectic variety of Caribbean cuisine today. Filled with colorful photographs and infused with the joy of two expert chefs celebrating the foods that are closest to their hearts, Taste the Islands brings the places, histories, and rhythms of the Caribbean into your home kitchen.
BIC:
1KJ Caribbean islands, WBB TV / celebrity chef cookbooks, WBN National & regional cuisine