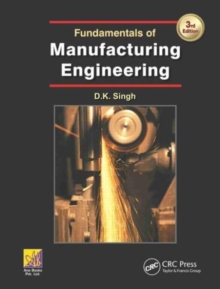 Fundamentals of manufacturing engineering (Second edition)
1482254433 / 9781482254433
25 cm 616 pages : illustrations
This new edition of a bestseller has gone through a thorough update and continues to provide a comprehensive introduction to materials and their properties.
It begins by discussing ferrous and non-ferrous materials and their heat treatment and then moves on to discuss non-conventional materials.
The book covers the processes of casting and jointing as well as welding.
Additional topics include forming operation, cutting tool materials, solid stoke welding, the theory of metal cutting, machining operations, and design considerations in joining processes.
It concludes with a new chapter on Manufacturing Tools and Workshop Applications.
BIC:
TBC Engineering: general, TBD Technical design, TGM Materials science