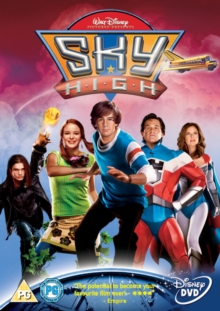 English, Italian, German, Turkish
English, French, Italian, German, Spanish, Norwegian, Danish, Finnish, Icelandic, Portuguese, Turkish, Arabic, Croatian, Slovenian, Serbian
Family action-comedy. The son of legendary heroes Commander (Kurt Russell) and Jetstream (Kelly Preston), young Will Stronghold (Michael Angarano) carries huge expectations as he enters a high-tech high school, known for moulding the heroes of tomorrow.
With no apparent superpowers of his own, however, Will seems destined to grow up a mere sidekick.
But as he discovers his true strengths, he also learns that it takes loyalty and teamwork to truly become a hero.
Other Documentary: Alternate opening, 'Welcome to Sky High', 'Breaking Down Walls: The stunts of 'Sky High''
Bonus Tracks: 'I Melt With You' by Bowling for Soup music video