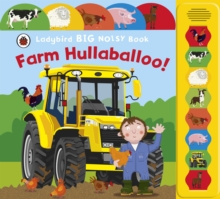 1409306682 / 9781409306689
28 x 31 cm [12] p. : chiefly col. ill.
Farm Hullaballoo is a Big Noisy book from Ladybird. Ladybird's Big Noisy Books are lovely, sturdy sound books with colourful illustrations by Paul Nicholls and eight exciting sound buttons.
This farm sound book is full of detailed pictures of life on a farm, with labels on each picture to pick out interesting features, giving toddlers the detail they love.
All the popular animals are introduced: pigs, cows, sheep, ducks, chickens and horses.
Young children who are interested in animals and tractors will love playing with this book, pressing the buttons as they read the story. Ladybird publishes the very best books for babies and toddlers - colourful and engaging, they encourage early interaction with books and the wider world.
Watch your little one have fun and learn with Ladybird from their very first book until they start school. Look out for the classic Ladybird series - there is a Ladybird book for every age and every stage. Baby Touch; Toddler Touch; Busy; First Favourite Tales; Read It Yourself; Topsy and Tim; Key Words With Peter and Jane
BIC: