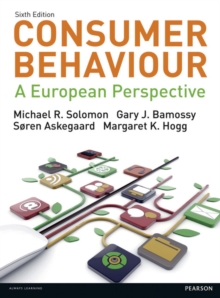 Consumer behaviour : a European perspective (Sixth edition)
1292116722 / 9781292116723
Stock expected by 04/03/2020
27 cm xxv, 706 pages : illustrations (colour)
Consumer Behaviour: A European Perspective 6th Edition by Michael R.
Solomon, Gary J. Bamossy, Soren T. Askegaard and Margaret K. Hogg Now in its sixth edition, Consumer Behaviour: A European Perspective provides a fully comprehensive, lively and engaging introduction to the behaviour of consumers in Europe and around the world.
This text offers a cutting-edge overview of consumer behaviour and is ideal for second and third year undergraduates as well as master's students. The book links consumer behaviour theory with the real-life problems faced by practitioners in many ways: Marketing opportunity, Marketing pitfalls and Multicultural dimensions boxes throughout the text illustrate the impact consumer behaviour has on marketing activities. Consumer behaviour as I see it boxes feature marketing professionals talking about the relevance of consumer behaviour issues to their everyday work. Brand new Case studies about European companies and topics give deep insights into the world of consumer behaviour. New coverage of sustainable consumption, emerging technologies, social media and online behaviour is woven throughout this edition. Online materials including multiple-choice questions and links to useful websites are available on the book's website at www.pearsoned.co.uk/solomonAbout the authors Michael R.
Solomon, Ph.D., joined the Haub School of Business at Saint Joseph's University in Philadelphia as Professor of Marketing in 2006, where he also serves as Director of the Center for Consumer Research.
He is also Professor of Consumer Behaviour at the Manchester Business School, The University of Manchester.
In addition to this book, he is also the co-author of the widely used textbook, Marketing: Real People, Real Decisions. Gary J. Bamossy, Ph.D., is Clinical Professor of Marketing at the McDonough School of Business, Georgetown University, in Washington D.C. Soren Askegaard, Ph.D., is Professor of Marketing at the University of Southern Denmark, Odense. Margaret K. Hogg ,Ph.D., is Professor of Consumer Behaviour and Marketing in the Department of Marketing at Lancaster University Management School.
BIC:
£45.37
RRP £54.99
The title has been replaced. To check if this specific edition is still available please contact Customer Care +44(0)1482 384660 or schools.services@brownsbfs.co.uk, otherwise please click 9781292245423 to take you to the new version.