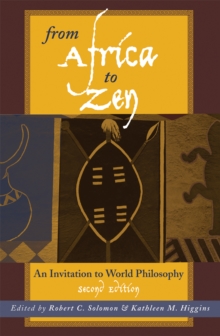 From Africa to Zen : an invitation to world philosophy (2nd ed)
0742513505 / 9780742513501
Stock expected by 17/12/2019
In this second edition, fifteen experts introduce some of the great philosophical traditions in the world.
The dozen essays collected here unveil sophisticated philosophical traditions that are too often neglected in the western world.
The contributors include the leading scholars in their fields but they write for students coming to these concepts for the first time. "From Africa to Zen" reveals the many theatres of philosophy around the globe.
Building on revisions and updates to the original, including essays on China, India, Japan and the Americas, this edition also considers three philosophical traditions for the first time - Jewish, Budhist and South Pacific (Maori) philosophy.
BIC: