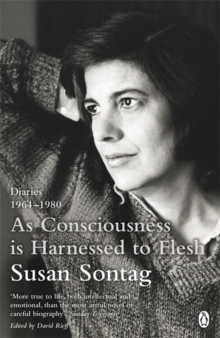 As consciousness is harnessed to flesh : diaries, 1964-1980
0241954460 / 9780241954461
Reprint. Originally published: New York: Farrar, Straus and Giroux, 2012.
'The only transformation that interests me is a total transformation- however minute.
I want the encounter with a person or a work of art to change everything.'Brazen, brilliant and deeply searing, Sontag's diaries wrestle with the profound - exploring ideas and subjects as far-reaching as writing, war, desire and consciousness. From the graphic destruction of war-torn Vietnam to her tumultuous romantic affairs, in the second volume of her diaries, Sontag is profoundly candid and insightful.
This instalment charts the years when Sontag wrote the majority of her renowned essays, including the ground-breaking Against Interpretation in 1966.
Riveting and enlightening, As Consciousness is Harnessed to Flesh illuminates the mind of one of the twentieth century's most significant intellectuals. 'Her diary entries combine her interests with bright, aphoristic turns of phrase....These diaries are a reminder of the value of the work that made her great, and also mysterious . . . ' The Economist'It is a rare pleasure to read, in her diary, discoveries being made in real time.
She applies her mind to itself with enthusiasm' The Guardian 'In its fragmentation and incoherence and passion, its combination of the erudite and the everyday, it is more true to life, both intellectual and emotional, than the most artful novel or careful biography.
It may well be that Sontag's diaries, like Virginia Woolf's (which she knew and admired) will come to be seen as just as brilliant and important as anything she wrote.' The Telegraph
BIC: