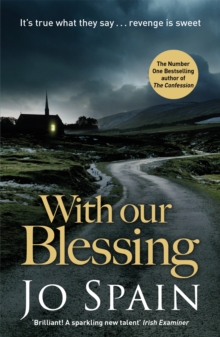 With our blessing
1784293172 / 9781784293178
Reprint. Originally published: 2015.
THE FIRST TOM REYNOLDS MYSTERY FROM THE INTERNATIONALLY BESTSELLING AUTHOR OF THE PERFECT LIE'Fiendishly clever' - Irish Sunday IndependentIt's true what they say . . . revenge is sweet. 1975A baby, minutes old, is forcibly taken from its devastated mother. 2010The body of an elderly woman is found in a Dublin public park in the depths of winter. Detective Inspector Tom Reynolds is on the case. He's convinced the murder is linked to historical events that took place in the notorious Magdalene Laundries.
Reynolds and his team follow the trail to an isolated convent in the Irish countryside.
But once inside, it becomes disturbingly clear that the killer is amongst them . . . and is determined to exact further vengeance for the sins of the past. Discover more DI Tom Reynolds with the next instalments of the acclaimed series, Beneath the Surface. For even more Jo Spain, be sure to check out her most exciting and thrilling work yet, The Perfect Lie.
BIC: