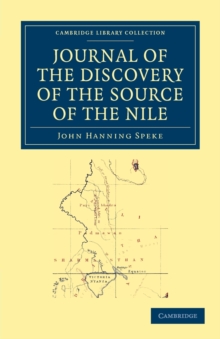 Journal of the Discovery of the Source of the Nile
1108031234 / 9781108031233
Usually dispatched within 4 weeks
140 x 216 mm, 950 grams 758 pages, 26 Plates, black and white; 2 Maps; 48 Halftones, unspecified
John Hanning Speke (1827-1864) was a British army officer and explorer, remembered for his expeditions in search of the source of the Nile and his disputes with Richard Burton on that subject.
On an expedition begun in 1856 Burton and Speke reached Lake Tanganyika together, but Speke travelled on alone to Lake Victoria.
He controversially gave lectures about the lakes in London in 1859, without awaiting Burton's return.
Speke returned to Africa later that year, leading an expedition organised by the Royal Geographical Society, to explore Lake Victoria and investigate whether it really was the source of the Nile.
This book, published in 1863, describes the 1859 expedition's challenging and eventful journey through present-day Zanzibar, Tanzania and Uganda, and the indigenous peoples the explorers encountered.
Speke made invaluable surveys of the area, but it was only after his death that his views about the Nile were finally proved correct.
BIC:
1H Africa, 3JH c 1800 to c 1900, HBTP Historical geography, RGR Geographical discovery & exploration, WTLP Expeditions