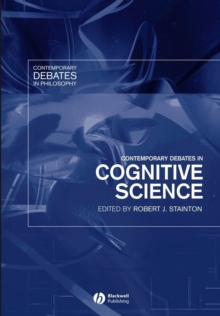 Contemporary debates in cognitive science
1405113057 / 9781405113052
Stock expected by 02/02/2020
postgraduate Learn More
research & professional
undergraduate
This volume introduces central issues in cognitive science by means of debates on key questions.
Renowned experts in the field contribute to the debates from different perspectives, covering the middle ground as well as the extremes.
They address such topics as the degree of modularity of the mind, the amount of innate knowledge, whether human cognition is bounded, the role of perception in action, the place of external elements in mental states, and the importance of rules and representations for explaining systematicity.
The volume as a whole provides a valuable overview of the field in a clear and easily comprehensible form.
BIC: