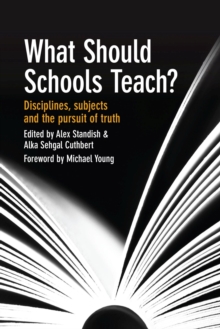 What should schools teach? : disciplines, subjects and the pursuit of truth
1782772170 / 9781782772170
Usually dispatched within 4 weeks
24 cm xxv, 149 pages : illustrations (colour)
The blurring of the distinctions between pedagogy and curriculum, and experience and knowledge, has resulted in a generation of teachers who are confused about the part that each of these plays in the education of children.
Schools may still teach through subjects, but there is little consensus about what constitutes a subject and what they are for.
The aim of this book is to contribute to a more robust rationale for, and understanding of, what schools should teach - the curriculum.
This is not to dismiss the significance of pedagogy, how children learn or the personal knowledge and experiences they bring to the classroom.
Rather, to become a successful teacher depends upon understanding the respective roles of each.
But the curriculum - what to teach - is logically prior to how to teach it.
There is no more important question in education.
BIC:
* Variable discounts between 0% and 15% are applied to items where BBfS cannot determine exact discounts from suppliers.