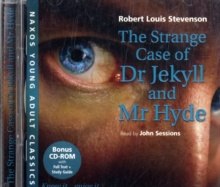 The strange case of Dr Jekyll and Mr Hyde (Abridged ed)
9626349662 / 9789626349663
4 3/4 in : digital, stereo
Compact discs CD-ROM. Read by John Sessions.
Scientist Dr. Jekyll discovers a way of changing his personality and becoming the violent and aggressive Mr. Hyde. At the start, moving from one to the other is easy. But not for long. Both a psychological investigation and a thrilling story, the double nature of the hero has made him an iconic figure in literature.
The tempestuous nature of the tale makes it an ideal title for "Young Adult Classics", the introductory series for the 13-17 age range.
This edition includes a bonus CD-ROM which contains the abridged and unabridged texts, and Top Teacher's Notes by high profile English teacher Francis Gilbert.
BIC: