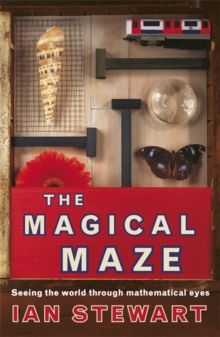 The magical maze : seeing the world through mathematical eyes
0753805146 / 9780753805145
Stock expected by 04/12/2020
general Learn More
research & professional
academic/professional/technical
Reprint. Originally published: London: Weidenfeld & Nicolson, 1997.
*Comparable to Sophie's World, this is a highly accessible exploration of a difficult subject. *Ian Stewart's extremely successful Nature's numbers is to be simultaneously reissued in a new cover treatment.
A brilliant exploration of the beauty and power of mathematics Ian Stewart has carved out of a niche for himself as by far the leading populariser of maths in this country in a series of successful books.
The Magical Maze is structured on the image of a maze representing the network of connected mathematical ideas that have proved sopowerful and effective in the understanding the natural world.
Expanding from Stewart's 1997 Royal Institution Christmas lecture, it covers topics such as numbers, probablity, game theory, patterns and oscillators, as well as knots, computability, chaos and other topics chosen to communicate the intellectual excitement and beauty of mathematics as a subject.
BIC: