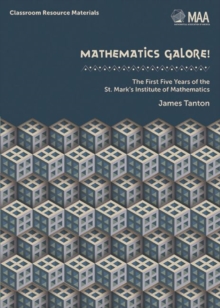 0883857766 / 9780883857762
Stock expected by 02/02/2020
The author of this book believes that there is too much rote learning and not enough creative exploration in mathematical education.
To remedy this he has produced a book that promotes intellectual play and adaptability of thought by engaging the reader in mathematical activities.
Twenty-six chapters examine a wide variety of mathematical teasers and problems and the mathematics behind them is explained and proved via natural and accessible means.
This is an excellent recreational maths book that also serves as a source of inspiration for teachers of mathematics.
Pick and read essays in no particular order and enjoy the mathematical stories that unfold.
Be inspired for your courses, your math clubs and your math circles, and enjoy for yourself the bounty of additional research questions and intriguing puzzles that lie within.
BIC: