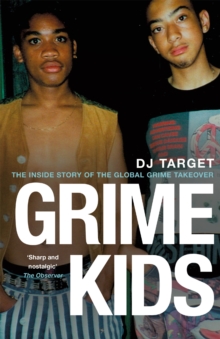 Grime kids : the inside story of the global grime takeover
1409179532 / 9781409179535
20 cm 276 pages, 8 unnumbered pages of plates : illustrations (black and white, and colour)
Reprint. Originally published: 2018.
For fans of Wiley, Dizzee Rascal and Stormzy, Grime Kids is the definitive inside story of Grime. 'An essential read for anyone with the slightest interest in the birth of Grime' The Wire'Sharp and nostalgic' The ObserverA group of kids in the 90s had a dream to make their voice heard - and this book documents their seminal impact on today's pop culture. DJ Target grew up in Bow under the shadow of Canary Wharf, with money looming close on the skyline.
The 'Godfather of Grime' Wiley and Dizzee Rascal first met each other in his bedroom.
They were all just grime kids on the block back then, and didn't realise they were to become pioneers of an international music revolution.
A movement that permeates deep into British culture and beyond.
Household names were borne out of those housing estates, and the music industry now jumps to the beat of their gritty reality rather than the tune of glossy aspiration.
Grime has shaken the world and Target is revealing its explosive and expansive journey in full, using his own unique insight and drawing on the input of grime's greatest names. What readers are saying about Grime Kids:'Fantastic depiction of the inception of a genre that has spanned the millennium''Brilliant insight in to grim music from one of the pioneers of the scene''This book really sums up the feeling of being a DJ perfectly'
BIC:
1DBK United Kingdom, Great Britain, 3JJPR c 1990 to c 2000, AS Dance & other performing arts, AVGR Rap & Hip-Hop, AVGV Electronic music, JFCA Popular culture