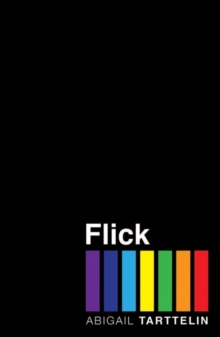 Flick
1907616187 / 9781907616181
Usually dispatched within 2 weeks
Abigail Tarttelin's debut novel is a brilliant, unforgettable moment, a sweet taste of life, a love letter to hope: My name is Flick and these are the images of my disconnected life, my forgettable weeks and unforgettable weekends.
I am one of the disaffected youth, a child of the ASBO generation and we live like we might die every second, while missing all the real things we should be living for (it's true, we know what we lack - why d'you think we're wankered half the time?).
These few lines, this poem to post-pubescence details one stand-out summer in my life when, and I kid you not, I suffered two epiphanies, two real things that I learnt.
The first was the name of the (possible) love of my life, the second, about myself - I realised I was a knobend. And what a wonderful thing to learn at the tender age of fifteen.
The only other need-to-know detail is that I am so-called Flick, because my life is like the pages of a flick-book - a series of fast and frenetic images, delivered in double time, a bit of humour, a dash of tragedy, fairly black and white in its lack of variety - the end ever approaching as the pages run out.
Each page a story, each flick a life failing. A life in bright, yet entirely similar images. A life ending fast. A life in snapshots. So, for your pleasure, here's a few of them.
BIC: