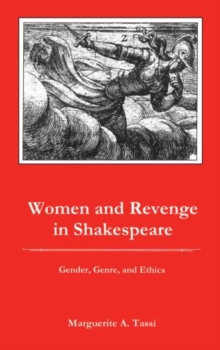 Women and Revenge in Shakespeare : Gender, Genre, and Ethics
1575911310 / 9781575911311
Stock expected by 14/12/2019
159 x 233 mm, 708 grams 344 pages
Can there be a virtue in vengeance? Can revenge do ethical work? Can revenge be the obligation of women? This wide-ranging literary study looks at Shakespeare's women and finds bold answers to questions such as these.
A surprising number of Shakespeare's female characters respond to moral outrages by expressing a strong desire for vengeance.
This book's analysis of these characters and their circumstances offers incisive critical perceptions of feminine anger, ethics, and agency and challenges our assumptions about the role of gender in revenge. In this provocative book, Marguerite A. Tassi counters longstanding critical opinions on revenge: that it is the sole province of men in Western literature and culture, that it is a barbaric, morally depraved, irrational instinct, and that it is antithetical to justice.
Countless examples have been mined from Shakespeare's dramas to reveal women's profound concerns with revenge and justice, honor and shame, crime and punishment.
In placing the critical focus on avenging women, this book significantly redresses a gender imbalance in scholarly treatments of revenge, particularly in early modern literature.
BIC:
DS Literature: history & criticism, DSG Literary studies: plays & playwrights