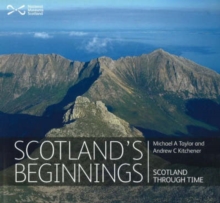 Scotland's beginnings : Scotland through time
1901663264 / 9781901663266
20 x 21 cm 88 p. : col. ill., maps (some col.), ports.
What would we have seen if we looked out over the landscape of Scotland at its very beginning, before the impact of mankind?
What would it be like to swim in the Jurassic sea? Or stand early one morning in the dragon-fly haunted coal forests of the Midland Valley?
This book captures in words, drawings, paintings and photographs the dramatic sceneries - erupting volcanoes, colliding continents - and ever-changing landscape of Scotland.
A second volume by Andrew Kitchener, describing the origins of wildlife in Scotland, is scheduled for 2006.
BIC:
1DBKS Scotland, HBJD1 British & Irish history, HBLA Ancient history: to c 500 CE, RBGF Historical geology, RBX Palaeontology