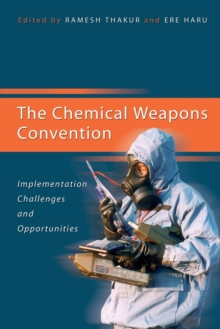 The Chemical Weapons Convention : Implementation Challenges and Opportunities
9280811231 / 9789280811230
Usually dispatched within 4 weeks
The most complex and comprehensive disarmament treaty ever to be adopted, the Chemical Weapons Convention is intended to provide robust assurance that chemical weapons will not be developed, produced, stockpiled, used or transferred.
To implement and enforce the Convention and verify the ongoing elimination of declared chemical weapons production capacity and stockpiles, the Organisation for the Prohibition of Chemical Weapons inspects military and industrial sites in dozens of countries.
This book provides an in-depth explanation of the notable achievements of the Chemical Weapons Convention in a relatively short span since 1997, and examines the issues that must be addressed to ensure the regime's continuing vitality in the context of dynamic changes in the security environment, and in science, industry and technology.
BIC:
JPSF Arms negotiation & control, JWMC Chemical & biological weapons
* Variable discounts between 0% and 15% are applied to items where BBfS cannot determine exact discounts from suppliers.