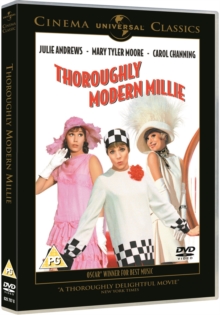 Innocent country girl Millie (Julie Andrews) arrives in Twenties New York determined to vamp it up and become 'thoroughly modern'.
She instantly marks out her new boss, Trevor Graydon (John Gavin), as a future husband, makes a new friend in the innocent Miss Dorothy (Mary Tyler Moore) and takes rooms in an establishment run by Mrs Meers (Beatrice Lillie) - unaware that the latter is in fact a white slave trader!
When Mrs Meers attempts to abduct Miss Dorothy, Millie calls upon paper clip salesman Jimmy (James Fox) and high society jazz babe Muzzy (Carol Channing) for help.
Elmer Bernstein won an Oscar for his score, while Carol Channing was nominated for Best Supporting Actress.