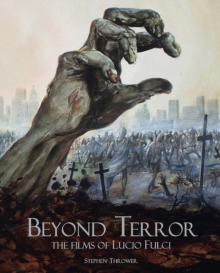 Beyond terror : the films of Lucio Fulci (Revised and expanded second edition)
1903254906 / 9781903254905
31 cm 430 pages : illustrations (black and white, and colour)
Illustrations on lining papers Previous edition: 1999.
Italy's Master of the Macabre Lucio Fulci is celebrated in this lavishly illustrated in-depth study of his extraordinary films.
From horror masterpieces like The Beyond and Zombie Flesh-Eaters to erotic thrillers like One On Top of the Other and A Lizard in a Woman's Skin; from his earliest days as director of manic Italian comedies to his notoriety as purveyor of extreme violence in the terrifying slasher epic The New York Ripper, his whole career is explored.
BIC: